A Candy Shack is a Building in FarmVille 2 which was used in a 2012 Halloween event to make candy for quests.
The image below shows the menu from the Candy Shack.
A – The total amount of Candy you have. As you redeem prizes, this number decreases.
B – The button to use when you want to redeem a prize. Once you have enough Candy, this button will turn blue.
C – The number of Farm Bucks required to purchase Candy.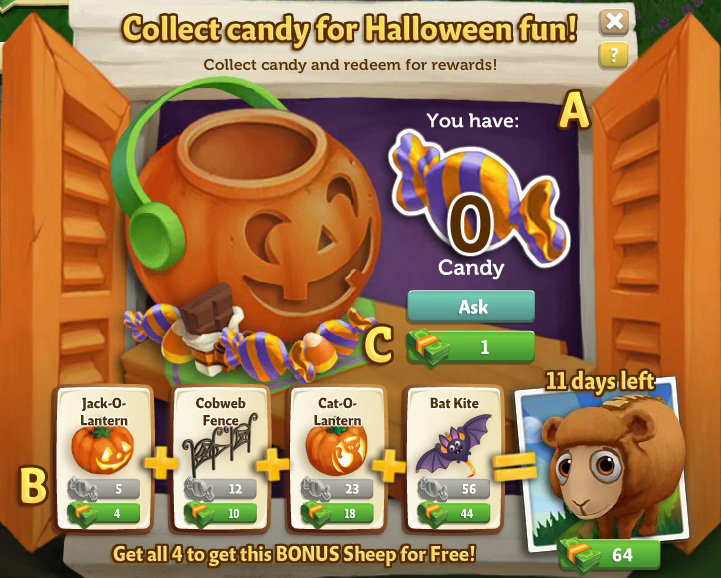 Collecting Candy
While harvesting your crops a candy can come with it like a glowing candy. It can be like a corn or a candy. After finding a candy you can share your finding, this will allow your friends to be able to click on this feed to claim some free candy for themselves. Once you have clicked on the candy, it will automatically be added to your candy total in your Candy Shack. candy can be earned as a gift from your friends, by asking or clicking on your friends feed. Candy can also be purchased using Farm Bucks.
Redeeming Candy for Prizes
Once you have collected enough Candy, it can be redeemed for some prizes. Click on your Candy Shack to open up your progress menu.
At the bottom of this menu, there are a total of 4 prizes that can be redeemed for Candy:
Jack-O-Lantern (5 Candy or 4 Farm Bucks)
Cobweb Fence (12 Candy or 10 Farm Bucks)
Cat-O-Lantern (23 Candy or 18 Farm Bucks)
Bat Kite (56 Candy or 44 Farm Bucks)
All 4 of these prizes can be redeemed as many times as you like, as long as you have enough Candy. Once you have collected all 4 of the above prizes, you will earn a Teddy Sheep. The Teddy Sheep can also be bought by paying 64 Farm Bucks.